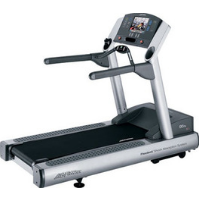 With new models ranging between under $1000 and over $4000 respectively, buying a treadmill seems to be a great investment for many people. Luckily, used treadmills are excellent alternatives to brand new models for folks who are on a tight budget. The most obvious advantage of used treadmills is the price, which offers substantial discounts compared to new models. Similarly, purchasing used pre-owned fitness equipment further puts the brand name of the treadmill models within reach for people who cannot afford them.
Treadmills continue to be the top choice equipment for cardio workouts. At Discount online fitness, we have a wide variety of high-quality used commercial treadmills at reasonable prices to get the job done. We check all our used fitness equipment for reliability and offer extended warranties on the same. Each machine is held to the highest standard, and we ensure each treadmill has genuine parts from a reputable manufacturer. Our team of experts is excited to help you find the perfect used treadmill to ensure you get in shape within no time. We will even provide you with more details on the motor size, monitor functions, deck size, warranty, and more.
Our excellent sizes and experience in this field mean that you get the best brand selection for the money. We provide you with quality used treadmills from top brands such as Star Trac, Life Fitness, Precor, Hammer, Cyber, Octane, Hoist, Matrix fitness and more. Our used treadmills move fast, and we change our inventory daily to meet the demand.
Ready for a fitness upgrade? Get our high-quality used treadmills and enjoy the best deals and discounts while fulfilling your fitness journey. Here are samples of our used gym equipment you could find in our stores. Check them out and see the difference in quality and services that are tailored to your needs.