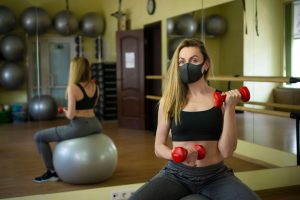 Gyms were among the first businesses to close doors in the wake of the COVID-19 pandemic. Luckily, they are also among the first places to resume operations according to the recently announced White House three-phase reopening plan.
While there is much enthusiasm about reopening the facilities, members, staff, and gym owners fear for their health. Research shows the virus can remain in the air for three hours, and droplets on surfaces linger for 72 hours.
As such, the White House reopening plan requires gyms to adhere to strict physical distancing protocols. This means fitness facilities need to adjust their spaces to align with the new regulations. Here's a detailed overview of the measures gyms need to take to maintain social distancing:
Spacing
The machines need to be set up more than six feet apart to ensure maximum social distancing during use. The additional space allows maximum movement among members in the facility as they move from one machine to another. Also, the pathways should have clear marks every six feet to ensure people are alert about social distancing regulations.
Capacity
Fitness studios can no longer host members at full capacity. They need to reduce the number of members attending the facility at any given time to ensure social distancing rules are maintained. Some clubs are limiting their capacities at 25%, while amenities like saunas and spas remain closed. The facilities are also limiting the number of people using the locker room, given the existing layouts.
Used Equipment
Facilities that have used equipment like bike shoe rentals also need to make some adjustments to enhance the safety of their members. The owners can create a plan to rotate the equipment, so it is only re-used after it has been disinfected and dry. Also, free amenities like phone chargers might not be available to minimize hand-to-hand contact.
The gym staff need to remain vigilant to ensure members adhere to all the policies. Also, gym owners need to be ready to make changes even to the design layouts of their fitness facilities.