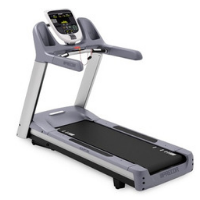 If you own a hotel or gym and are looking to update your fitness equipment you already know that new high-quality equipment is costly. Many people pooh-pooh the idea of buying used gym equipment because they are afraid that it will break down. Purchasing high-quality pre-owned fitness equipment is a much more viable option than you may think and here are some reasons why.
Reduced Cost
The number one reason to buy used fitness equipment is the price tag. As mentioned above new equipment is expensive. Buying used equipment will allow you to make the upgrades that you desire at a much lower cost; especially when it comes to strength equipment. You can invest in a new strength circuit for about $54,000 or invest in a remanufactured for $15-$20,000.
Like New Perks
It is a fact that many higher grossing gyms will use gym equipment in a similar way to people that lease cars use them. They will lease the equipment for a limited amount of time and then return it to the manufacturer so that they always have the newest editions in their spaces.
Hotels, personal training studios and gyms can take advantage of this and purchase these lightly used pieces of gym equipment from manufacturers or companies like Discount Online Fitness. When the equipment is returned, it is refurbished and re-warranted. In this case, you are not taking any gambles and get all of the perks, as in the warranty, like you had bought the equipment brand new.
Worry Free
Choosing to purchase used fitness equipment over renting or leasing it leaves you owning the equipment. When you own the equipment over renting or leasing it from someone else, you will not need to worry about the condition it is returned in or other rules and stipulations that may be in your contract.
Hands down purchasing pre-owned fitness equipment is less costly than paying up for new equipment. You have access to up to date pieces of refurbished like-new equipment from many vendors around the world. You do not have to worry about the upkeep of the equipment, beyond it being operational and safe for your customers.
The next time you find yourself wondering if it's time to update that old treadmill in the back of the gym; think about purchasing refurbished and certified used fitness equipment from Discount Online Fitness. You will save your company money and have top of the line equipment at reduced rates.
Contact Discount Onlife Fitness for all your used fitness equipment needs, 888-417-5306.