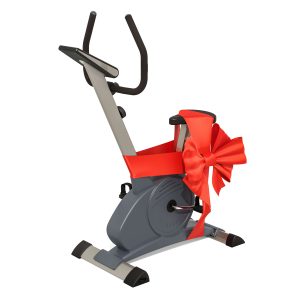 Every January, millions of Americans make a promise to themselves to lose weight and get in shape.
These days, virtually everyone who's serious about improving their health knows eating right isn't enough on its own. Over the last few years, dieting has gotten a bad reputation in many circles.
But everyone recognizes that exercise can help you lose weight faster. And no matter what the scale says on any given day, people who exercise regularly have the opportunity to enjoy greater energy and mental clarity.
It wasn't long ago that someone just embarking on their fitness journey would probably go for a jog around the block. But 2020 has made the basics a lot less certain. More people are realizing that if they want true consistency in their workouts, they should have some equipment safe at home.
If you know someone who wants to lose weight, this is the best year yet to buy them used gym equipment.
Yes, used!
Used Gym Equipment is Better for You and Better for Your Gift Recipient
If you're buying gym equipment as a gift, it's important not to get lured in by the "next big thing." Instead, stick with the fundamentals – the kind of equipment you can find when you look for used gym equipment online. These are the fitness tools that create results in the mirror that beginners can get excited about.
Let's take a closer look at the reasons why used equipment beats new:
1. Prices Are Going Down Fast
Gyms all around the country are scaling back or shutting down. Very few people want to get into a crowded athletic setting or work on a fitness machine inside of a plastic bubble. As gyms shift their business model, their old equipment is going to resellers. By finding a trusted brand to buy gym equipment online, you have the chance to reap discounts of 30% or more, which stretches your gift-giving budget even further.
2. Used Equipment Teaches Core Habits
Most used equipment will consist of tools and machines that have proven benefits. Thousands upon thousands of people have succeeded by using them. On the other hand, some of the newest "fitness toys" on the market are more about holding a user's attention rather than teaching them the basics of good form. Get your giftees foundational fitness aids – let them decide on the latest AI-enhanced gadgets themselves.
3. Used Equipment Means Less Guilt
Let's face it: Everyone has the highest of hopes when they start working on their fitness, but progress isn't always linear. Sometimes, they'll be dialed in and working on it for weeks. Other times, they might not look at their equipment for a month. The more positive someone's experiences with fitness are, the easier it is for them to stick with it. Gifts of new equipment can make them feel like they're not living up to their potential.
4. Your Giftee Can Resell Used Equipment
Exercising enough to make a difference in health is a long-term commitment. Many people will find that the lifestyle just isn't for them. Or they may come to the conclusion that they're happy with their body just as it is. Whatever the case, some people do drop out. It's much easier for them to sell off used equipment and make some money back than it would be to entice someone to buy high-ticket equipment for a reasonable price.
Whatever you decide, be sure you buy used gym equipment online from a brand you can trust. With Discount Online Fitness, you always know what you're getting. For help or advice, contact us.