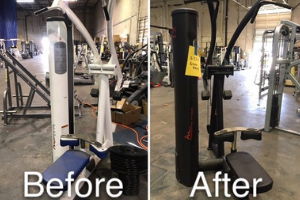 Gym equipment is an investment — a costly one if you want to buy the best. The market for used gym equipment provides a way to get quality products from top brands in the industry like Life Fitness, Cybex, Precor, Hammer and more at a fraction of the cost. What are the benefits of buying used?
Savings
The most obvious benefit is cost saving. Often used commercial gym equipment comes from large companies that lease or have maintenance policies. They go this route so they can easily phase-out current models as new ones become available.
What that means for the used equipment shopper is you might get a piece that has some mileage but will cost you much less money. These machines have a lot of life left in them still and quality tech features.
Top Brands
Buying used introduces you to quality brands that might otherwise be out of reach. Buying new in the same price range means purchasing off-brand models that are often made cheaply. You can expect more from commercial equipment when it comes from a respected brand.
Choices: Used vs. Remanufactured
Shopping the used gym equipment market gives you choices. You can buy as-is which means no work has been done to improve the machine. There will probably be no warranty but you should ask just in case. Buying used can mean some cosmetic issues, too, such as scratches in the paint and faded colors.
The product will have some wear and tear and might need maintenance. It may also need calibration and cleaning. Before purchasing ask what parts have been replaced and to see the maintenance record for the machine, so you know it has been taken care of properly.
If you are worried about aesthetics and want a well-tuned machine than consider remanufactured brand gym equipment instead. The experts at Discount Online Fitness take used strength equipment and cardio units like treadmills and ellipticals and make them like new again.
The remanufacturing process involves painting the frame, so each piece is clean and sharp looking. Discount Online Fitness also replaces all worn components with new parts and then recalibrates each machine for optimum performance. Each piece of equipment comes with 90-day parts and labor warranty and they even offer custom colors. They stock all the top brands, too.
Remanufactured will make the most sense for buyers who want a quality and reliable top brand machine for less cost.