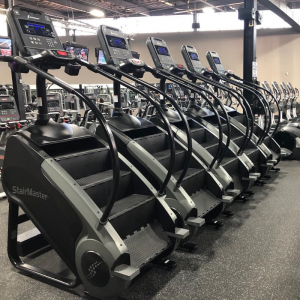 As you already know, new gym equipment is not cheap. However, you do not have to break the bank to get that exercise equipment. The alternative solution to this is purchasing used gym equipment. The market has plenty of second-hand gym equipment options, including stationary bikes, ellipticals, treadmills, and free weights.
However, landing the ideal machinery that will serve the purpose and last long could be a struggle. You have to conduct in-depth research and due diligence to make sure the equipment you are purchasing is working perfectly.
Benefits of buying used Gym Equipment
Cost is a significant factor to consider as you plan to purchase used equipment. Used equipment could go for half the price of new equipment. You can get exercise benches, racks, ellipticals, treadmills, and free weights that are working perfectly at lower prices.
Set and ready to work equipment
With new gym equipment, you may have to start the workout exercise the day after the purchase because of the adjustments needed to ensure it works properly. However, a used machine is already customized, and with very slight adjustments, you are ready to start working out the same day you bring the equipment home.
Tips for Purchasing Used Gym Equipment
You do not want to purchase equipment that will not fit in the available space you have. Before buying second-hand gym equipment, consider the available space.
Measure the dimensions of your space and ask the seller for the dimensions of the equipment. Compare the two and only pick the equipment if the area available is larger than the dimensions of the used equipment.
Get a trustworthy seller.
Avoid purchasing second-hand gym equipment from just any seller who shows up. If you want quality equipment with no faults, you have to look for a trusted and top-rated seller. A trusted dealer will sell you safe equipment that is in perfect condition.
This particular dealer should also help you distinguish between re-manufactured, refurbished, and pre-owned to enable you to make the right decision. A trusted dealer will also back the equipment. They will give you a warranty for the products. As you make the purchase, you will be sure the equipment is covered if it requires some repair.
Before taking the equipment home, ensure it is not excessively worn out. Check for cracks, excessive wear, damages, and rust. Ensure you test the equipment several times before buying to ascertain everything works quite perfectly. If the gear needs any parts replaced or cleaned, ensure you can get them in the market at affordable prices.
How to Acquire the Used Gym Equipment
Please go through our website to identify the particular equipment you need. After that, you can directly contact us and let us know which one you want. We can also help you decide what equipment to purchase after you explain your needs to us.
Depending on your expertise, we may choose to visit your site or not. After we are sure what is perfect for you, you will get a quote from us. Pay for the equipment, and once that is done, we will gladly deliver the equipment to you.
Why Choose Us
Our used gym equipment goes at very reasonable prices. We know how expensive the new equipment is, which is why we provide a solution to you by selling quality used gym equipment at affordable rates.
We only sell you quality equipment that will last long. Our used equipment comes ready to use with no defects. That is why we even offer extended warranties on the equipment.
Purchasing more equipment will guarantee you huge discounts saving you more money.
Bottom Line
The main advantage of purchasing used gym equipment is the equipment cost, which is way below the price of new equipment. However, be vigilant and very careful as the second-hand equipment could be faulty, which could be the reason for the sale. Only purchase from reputable dealers such as Discount Online Fitness to avoid such ordeals.