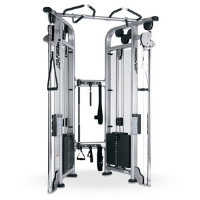 Building muscle and strength during gym workouts are great ways to lose body fat and sculpt the body. Having reliable equipment in place is essential when practicing resistance training. If you're hoping to train at home or equip your gym, finding used strength equipment is an excellent option.
What Is Strength Training?
Strength training is an integral part of gym routines and general body fitness. It helps you build your strength, muscle and endurance. And no, you won't look like a bodybuilder if you don't want to. Examples of strength training include lifting weights, using resistance bands and weight machines. Consequently, having the right equipment has a significant impact on the success of your strength training.
Buying Used Strength Equipment
Purchasing used equipment can be a daunting task, especially for beginners. However, with the right tips, you can find the best used strength equipment for your home gym, community gym, or cross-fit facility. You can save money by buying used strength equipment. The cost is a fraction of new equipment. Here are some of the things to keep in mind when purchasing used equipment.
Know What To Buy
The list of equipment used for strength training is endless. Free-weights and dumbbells are convenient for home exercise, with different weights available for trainees.  Other equipment includes machines for various activities, stability balls, kettlebells, and exercise bands. Before committing to a purchase, make a list of the equipment you need and the benefits the equipment offers.
Try Before You Buy
It is a good idea to buy used strength equipment from a location you can walk to, a gym or a friend's house. You can test out the equipment to see if it suits your exercise needs and if it functions correctly. Insist on testing out equipment, even if you feel shy. After all, it would be more unfortunate to take home useless equipment.
Choose Quality Brands
Buying used strength equipment does not mean that brands become irrelevant. If the equipment comes from a reputable brand, there are chances that it will continue to work efficiently for a long time. Generally, when it comes to electronics and equipment, buying from notable brands pays off in the long run.
Check For Excessive Wear
Used equipment is more affordable than new equipment. However, avoid settling for useless items. Some equipment may be completely worn out and impossible or dangerous to use. There's no need risking your health over a cheap deal. You may end up spending more at the hospital from injuries. Check for all torn and rusty parts. If you can replace some of the parts, then count the costs of replacement.
Check for Safety Features
An essential part of using strength training equipment is ensuring that it is safe to use. If you're planning to open a gym facility, injuries at your workplace could result in lawsuits. Check all the wiring, switches and warnings, and plastic parts. If any piece of the equipment is damaged, look into replacement before making the purchase.
Check The Warranty
Used strength equipment may not have a warranty. However, you can check if the warranty still applies. If you have the manufacturer details, ask if they have a maintenance shop close by that you use to service your equipment.
Compare Prices
First, compare the prices of new equipment in fitness stores, manufactures and shopping sites like Amazon. Second, check classified ads and online shops that sell used equipment to compare prices. It will give you a better idea of the price range and provide you with negotiation power.
Conclusion
Used strength equipment is an affordable option for anyone hoping to save money. When making the purchase, take your time and ask relevant questions to make sure you're getting the best deal.