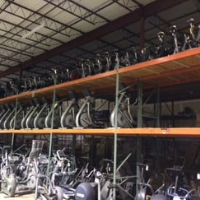 If you run a gym in your apartment, hotel or corporate office, you have faced the problem of replacing equipment. Used gym equipment that is not quite ready for the landfill should be utilized, not wasted. What are some things that you can do with used equipment?
Sell It / Trade In!
There are a couple of ways that you can sell the gym equipment that you no longer need. If you have used commercial equipment, some companies will purchase it from you. Discount Online Fitness is one of these companies. They will buy individual machines in the Dallas/Fort Worth area.
The process is simple; send photos of your used equipment to Discount Online Fitness Equipment and allow them to assess the condition. They will make you an offer and come pick up the equipment or wait for it to be delivered by you.
This is by far one of the easiest ways to take care of that old gym equipment while offsetting the cost of your new equipment. You can also attempt to sell your equipment on Craigslist, in the local newspaper, or by word of mouth.
Donate It!
If your equipment still has some life in it but is unable to fetch an alluring price for resale, consider donating your used fitness equipment. There are directly involved with the creation of physical activity areas for low-income housing, hospitals, teen centers, and other spaces that have a need.
One good thing about donating your equipment to a non-profit is that the donation can be counted as a tax write off. This means that your equipment is put to good use, it's not in a landfill, and you can save a bit on your taxes next year.
Toss It Out!
The final and last option is to throw your used equipment away. You already know that a commercial treadmill is beyond what they will take at the curb. So you are going to have to pay someone to haul it away and know that it is sitting in a landfill unused.
Your best options of the three is to find a reseller that will take it off your hands whether you purchase new equipment through them or not; like Discount Online Fitness Equipment. The next best option is to donate t and write the donation off on your taxes. And the third option is to pay someone to take it away, knowing that it will be unused as it slowly decomposes.
Give Discount Online Fitness a call today (888)417-5306 about your used gym equipment. They will purchase your items even if you don't buy your new equipment from them.