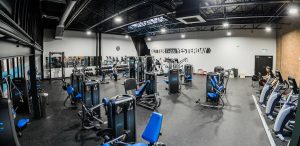 Between paying for a gym membership or financing a new home gym, either prospect can be costly. No matter your commitment level to getting and staying in shape for the long-term, both options come with pros and cons. However, there may be a third option you need to consider that may mitigate some of the negatives that you have been working through in your mind.
It's going to be tempting for the sake of expediency and perhaps cost to piecemeal a commercial gym together. And it's true, you may be able to pick up individual pieces in short order, but you may find that you're not able to get those pieces for as good a price as if you had opted to just buy a complete package.
Buying piecemeal units may have the unintended result of driving you towards sellers that may not be able to offer what dealers of complete packages offer. Craigslist and Facebook marketplace dealers typically don't offer the warranty that package dealers will.
Many reputable used equipment dealers will be able to tailor a gym package to your specific needs and at a better price. In addition, you'll also have a workout area that is much more aesthetically pleasing.
Do Your Research
Putting together a commercial or home gym on a budget takes some time and getting familiar with what's available, but with a little research, you can get everything you need at a fraction of what it would cost new, and have your very own workout area at home.
It's also important to understand the difference between commercial grade and residential grade. Simply stated, commercial equipment is designed for heavy use at a workout facility, and may carry with it a higher price tag. Of course, it's also designed for heavier use than residential.
Know Your Fitness Brands
Just like if you were buying new, it's important to read reviews and test out different brands of the same piece of equipment to see what you like best. It is also a good idea to do your research on the company selling the piece of equipment. If it was remanufactured, what's the company's reputation?
The best option is to be able to actually test the equipment and see the unit in person before you buy, but with the number of packages available online, that may not always be an option. That's when doing your homework on the companies involved becomes imperative.
It's also important to stick to brands you know. If there is a machine you've been using at your current gym, and you like it, try to get that same piece for your home gym. There's no use spending good money on a similar piece of equipment that you just aren't going to vibe with.
Get a Warranty
Whether it's a used car or gym equipment, it's important to get a warranty. If a salesperson tries to convince you that a warranty isn't necessary for a commercial piece of equipment designed to withstand 14 hours of use per day, move on. Reputable companies should offer at least a 90-day warranty, and if there is an option for an extended warranty, take it. A mobile gym technician can run upwards of $150 per hour for labor, and that's before parts.
There are a lot of great deals to be had when putting together a commercial or home used gym package. Make sure to do your research, and know what to ask for. By taking your time and opting for complete packages, you'll make sure you're happy with your used gym for the long-term.
Contact one of Discount Online Fitness' trained fitness professionals for more information on used gym packages.